Hello Film Lovers!
September is a wonderfully varied month. It brings the end-of-summer launch of a new season of arts and cultural events and marks the celebration of the Jewish High Holy Days. While we look forward to the 2024 Donald M. Ephraim Sun & Stars International Film Festival presented by MorseLife next Spring, this month we check out several films that entertainingly treat the phenomenon of celebrity.
Celebrity achieved through talent, noteworthy actions, or merely self-generated hype on social media has become one of the distinguishing characteristics of our age. Unsurprisingly, international filmmakers have targeted this trend for satirical treatment. Art, fame, and comedy collide in four films with unique takes on the subject, and all are available on the indicated home streaming platforms.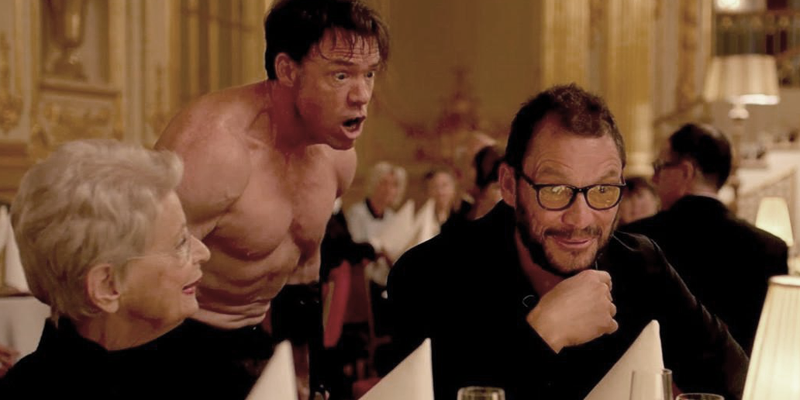 In 2017, the Cannes International Film Festival bestowed its highest honor, the Palme d'Or, on Swedish director Ruben Östlund for the satire THE SQUARE, set in the notoriety-seeking world of avant-garde art. Östlund deftly portrays the haughty pretensions of a scandal-ridden curator who courts fame through shock-based art. The chronicle of his hero's rise and fall is studded with some deliberately transgressive in-your-face humor as the director dares his audience to laugh at his outrageous jabs at many a sacred cow.
THE SQUARE
I joined 2,000 other international press members in the Grand Theatre Lumiere in the Cannes Festival Palais when THE SQUARE was press screened a few hours before its official red-carpet world premiere. Here is an excerpt from my report for RogerEbert.com:
"All was calm in the Palais for the press premiere of the second competition film of the day, THE SQUARE… It's a wicked and sometimes hilarious satire on the world of contemporary art and museums, raising questions concerning personal responsibility and humanity, treating them as comic fodder."
"Christian (Claes Bang, a dead-ringer for a 40-something Gregory Peck) is chief curator for the ultra-hip, ultra-chic X-Royal Museum of avant-garde art. He's handsome, pretentious, and arrogant in the privilege and power that make him the peer of the wealthy. In addition to calling up a few art-world clichés, Östlund creates some very accurate parodies of the art, artists, and lectures that might be found in a museum devoted to the kind of conceptual art that might leave the man on the street clueless."
Think film, and think Sun & Stars,