Hello Film Lovers!
October is here with Halloween looming, and tradition has it that this is the month to celebrate in good fun all things spooky and ethereal. Here at Sun & Stars, we're all in on the spirit of enjoying great films. We are actively in pursuit of the newest and the best films on the world scene for the upcoming Donald M. Ephraim Sun & Stars International Film Festival presented by MorseLife next February 27 – March 10.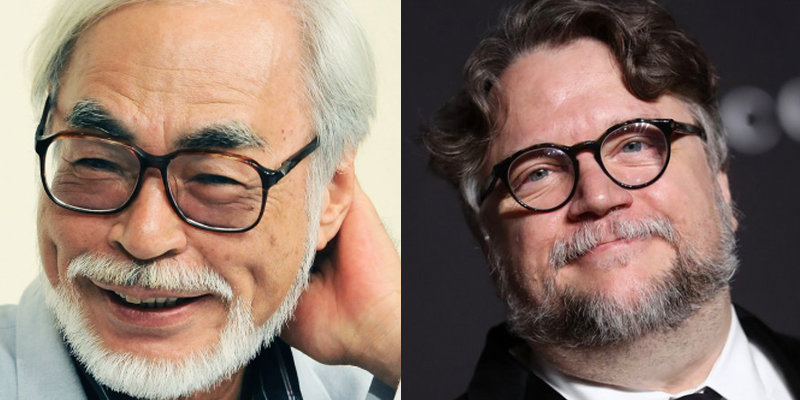 Our exciting festival plans are still under wraps, but while you're waiting (with bated breath, we hope) for the future reveal of our festival schedule, October is a time ripe for home viewing of films in a fantastical mode by two Oscar-winning international directors who have built their careers on evocations of the otherworldly. Seeing the supernatural from a perspective of mythology, and finding the roots of horror deep in the human psyche, Japanese animator Hayao Miyazaki and Mexican director Guillermo del Toro gift their viewers with sublime experiences far from any stereotypes of the genre.
If you think animation is just for kids, think again! The films of acclaimed 82-year-old Japanese animator Hayao Miyazaki have led viewers through an extravagant supernatural world over the course of a long and distinguished career. His latest, THE BOY AND THE HERON, opened this year's Toronto International Film Festival on September 7. Miyazaki was nominated for three Oscars and awarded one for SPIRITED AWAY in 2003, and was presented with an honorary award by the Academy of Motion Picture Arts and Sciences in 2015 for his extensive and beloved body of work, including the mythical PRINCESS MONONOKE.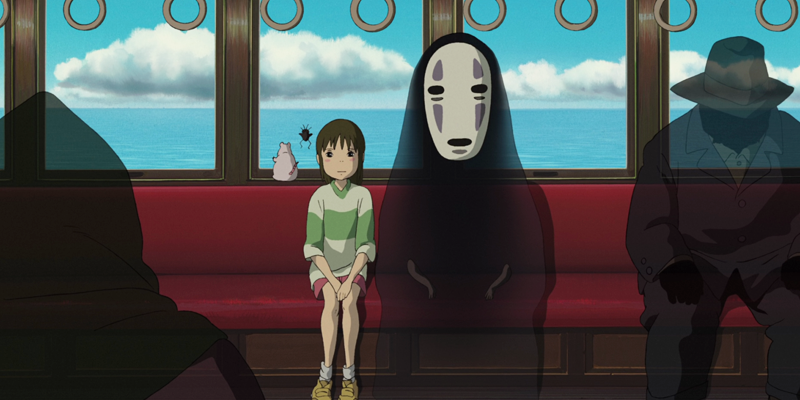 SPIRITED AWAY
2001, Hayao Miyazaki, Japan, 125 min.
With its seductive imagery and haunting story evoking the darkest childhood fears and wishes, SPIRITED AWAY, Japan's first and only winner of an Oscar for Best Animated Feature, is an eerie tale that resonates with film lovers of all ages. Chihiro, a ten-year-old girl, becomes separated from her parents and lost in what appears to be an abandoned theme park but turns out to be a ghostly spa for gods and nature spirits, ruled by a canny witch. Surrounded by shape-shifting goblins, Chihiro learns to rely on herself as she navigates a world in which nothing is what it seems. In Japanese with English subtitles; or, with English soundtrack – either choice available on Amazon Prime.
"Miyazaki is the Pied Piper – see SPIRITED AWAY and you'll follow him anywhere." -Peter Travers, Rolling Stone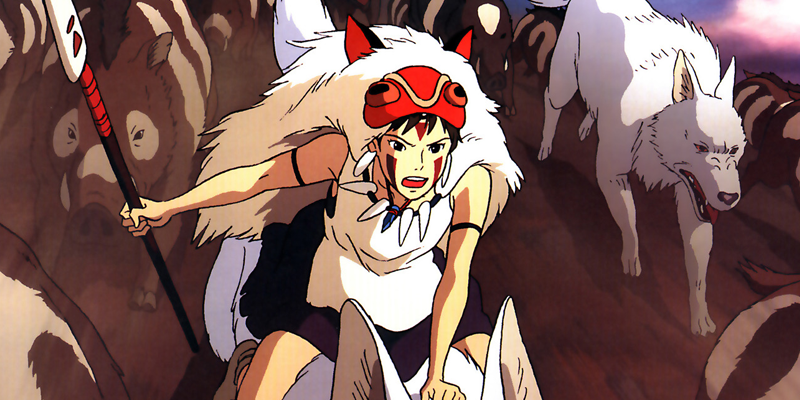 PRINCESS MONONOKE
1997, Hayao Miyazaki, Japan, 134 min.
Working at the height of his powers, director Miyazaki poured all the skills of his art into this magnificent epic of mythical history set at the dawn of mankind's Iron Age, when humans and the spirits of nature battled it out for mastery of the earth. Young hero Ashitaka saves his village by slaying a demon with a body of writhing snakes. Marked by a curse as a result, he searches far and wide for the source of the evil, and faces gods, devils, fantastical life forms, and a beautiful girl who rides the back of a gigantic she-wolf. In Japanese with English subtitles; or, with English soundtrack – either choice available on Amazon Prime.
"A great film… one of the most visually inventive films I have ever seen." -Roger Ebert, Chicago Sun-Times
"A landmark feat… amazing to behold." -Janet Maslin, The New York Times
Mexican director Guillermo del Toro has been creating intricately crafted and beautifully bizarre tales of the supernatural since his first feature CRONOS made its international debut to much critical acclaim at the Cannes International Film Festival in 1993. A world-class master of haunted tales rendered with special effects, del Toro largely eschews the computer-generated imagery more common in Hollywood to create extraordinary imagery and unique creatures through skilled makeup, artful animatronics and actor characterizations.
In 2017, del Toro's THE SHAPE OF WATER earned thirteen Oscar nominations, the most of any film that year, and won four, including Best Director and Best Motion Picture. His 2006 film PAN'S LABYRINTH received a 22-minute standing ovation at the Cannes International Film Festival in its world premiere, and was subsequently nominated for five Oscars, winning three. Del Toro's 127 awards worldwide are testament to the special appeal that his dark fairy tales have had across all nations and cultures.
THE SHAPE OF WATER
2017, Guillermo del Toro, USA/Mexico, 123 min. With Sally Hawkins, Octavia Spencer, Doug Jones
Under heavy guard, a tank containing a thrashing and hostile aquatic humanoid creature captured in the Amazon is brought into a Baltimore military laboratory late one night circa 1962. The only unauthorized witness is the lone young cleaning woman Elisa (Hawkins), a mute as the result of a mysterious childhood surgery. While researchers and government agents mount deadly and sinister plans for the future of their prized specimen, del Toro takes the story in the most unexpected of romantic and intrigue-filled directions. Too lowly to be noticed by her superiors and driven by curiosity, Elisa takes pity on the alien creature and secretly coaxes him to a heartfelt meeting of the minds. See it on Amazon Prime.
"THE SHAPE OF WATER is a sexy, violent, preposterous, beautiful fantasy, co-writer and director Guillermo del Toro's most vivid and fully formed achievement since PAN'S LABYRINTH." -Michael Phillips, Chicago Tribune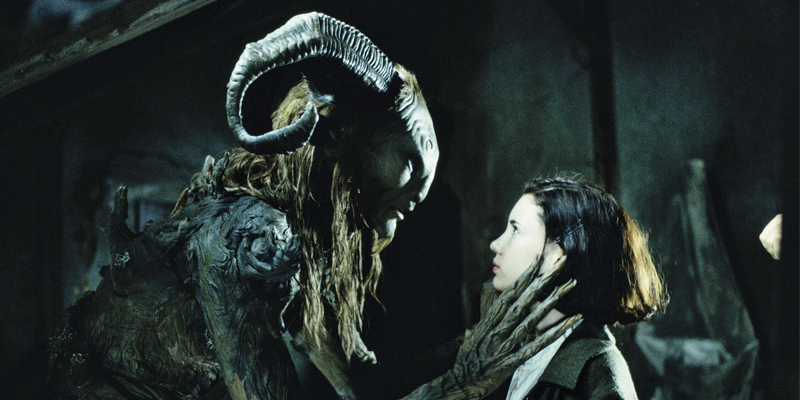 PAN'S LABYRINTH
2006, Guillermo del Toro, Mexico/Spain, 118 min. With Ivana Vaquero Sergi López
Spain, 1944: Ofelia, a little girl obsessed with fairy tales, accompanies her pregnant mother to the rural outpost where they will live with her new stepfather, a sadistic army officer under the Franco regime. Director del Toro deftly blends a colorful portrait of the era's desperate resistance to fascism with the struggle between good and evil that ensues deep underground, where Ofelia is led in the night by the faun who appears in her dream. The fate of war-torn Europe hangs in the balance as Ofelia confronts an equally fraught fantastical kingdom where she faces a life-and-death decision. In Spanish with English subtitles on Amazon Prime.
"So breathtaking in its artistic ambition, so technically accomplished, so morally expansive, so fully realized that it defies the usual critical blather."—Ann Hornaday, Washington Post
Next month, celebrate Thanksgiving with filmmakers as foodies.
Think film, and think Sun & Stars,